Who is U_S_S_Enterprise ?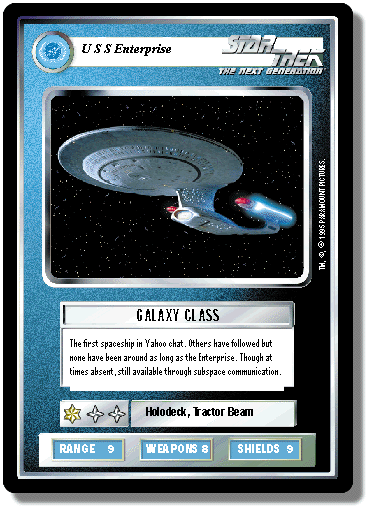 Good.. isn't it?
And yes, I'm very much aware that "some" people consider Star Trek satanic.....Well, I disagree. It is not exactly God-uplifting but not ,as I have heard some person claim, glorifying the devil either. The devil is even portrayed for what he really is in one episode!...But hey, I need not defend myself.
The images I "borrowed" come from a card game.
For those of you who are unfamiliar with this game :
The cards are from the Collectible Card Game (CCG) :Star Trek : The Next Generation (ST:TNG) from Decipher inc. This is a card game somewhat like the famous Magic card game, only this one based on Star Trek series, storylines and characters. Also like magic, the set is expanding every now and then with new cards, story twists and characters to use in your "play deck" .
The cards were scanned, and then changed a little bit where the text is concerned. The basic elements I have left as they should be. If you are curious about this game, you can check out Deciphers homepage by clicking on either of the links here.
Thank you for visiting. Have you added your comment to my guestbook yet?
Go back to guardian story Go to homepage Goto creators of these cards, at least, the originals
The music you are hearing is the MIDI version of Michael W Smiths "Live the Life".
The lyrics are especially important for anyone wanting to know what it takes to be a real christian.